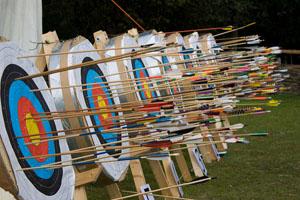 Many managers regard quality objectives as another useless tool. Wrong!
Quality objectives are the base of long-term quality improvement planning. They should be a part of MBO system (managing by objectives) in the organization. If top management wants to manage the quality objectives separately, the won't work. It was proven in many companies. As the quality policy is important part of strategy, the quality objectives should be important part of targets for each (at least each managerial) post.
The ISO 9000 contains a definition of quality objective: something sought, or aimed for, related to quality. I don't like ISO 9000 definitions, and this one really bad. Objective should be related to the effects we want to achieve. Therefore the quality objective is an effect related to quality which is desirable by the organization. We could end it with "by the top management", however then we would limit ourselves to deterministic, centralized approach which is a bit outdated (see: employee's involvement).
Former requirements of ISO 9001
The former requirements were related to:
establishment of quality objectives on all levels
among others there should be objectives related to product quality
quality objectives should be measurable
quality objectives should be consistent with quality policy.
Those requirements should be clear for managers. However they were too little specific, which lead to misinterpretation. In many companies that hadn't used MBO, the quality objectives have been written on paper only.
New requirements of ISO 9001:2015
The new requirements are much more specific. The quality objectives shall:
be consistent with quality policy
be measurable
take into account applicable requirements
be relevant to conformity of products and services and to enhancement of customer satisfaction
be monitored
be communicated
be updated as appropriate.
What's more, the standard describes in detail how to plan objectives. The plan should include description of:
what will be done,
what resources will be required,
who will be responsible,
when it will be completed,
how the result will be evaluated.
Those who know ISO 27001 standards can clearly see the new policy of ISO regarding to objectives and planning.
How to implement quality objectives?
The organization should be able to justify that the objective has impact on product or customer satisfaction. It can be reasonable to use methods that provide us with bunch of interesting quality objectives, as: Failure Mode and Effects Analysis, Quality Function Deployment or SERVQUAL. Those methods are used at the stage of product or service design. They return a lot of data about possible problems with quality (FMEA), customer requirements (QFD) and problems with services (SERVQUAL).
The description of quality objectives should include resources, owners, dates, measurable effects. It is very convenient to do it in table, e.g. spreadsheet. The organizations that use Balanced Scorecard (BSC) can also utilize quality or customer perspective.
Evaluation of changes
All the changes in ISO 9001 that decrease bureaucracy or increase emphasis on creation of real working system are good. This one will not create any bureaucracy in well managed company (I mean having at least MBO). It can also improve quality planning and force managers to use methods that will help them better understand the customer.
See also:
Photo: Hans Splinter, Flickr, CC